By air
The quickest way to get to Oulu is by air. Oulu airport is the second busiest in Finland, with flights from Helsinki arriving throughout the day.The operators between Helsinki and Oulu are Finnair and Blue1 (SAS affiliate). The airport is located approximately 15 kilometers from the city. The airport bus runs every 20 minutes (on weekdays) from the airport to the city centre. The journey costs approximately € 4. Taxis and car rentals are available at the airport. Taxi to the city costs approximately € 30-35. There is also an airport taxi service which connects to the city centre with a fixed fee (requires pre-booking, see the Oulu airport home page for more information).
The low-cost carrier Ryanair flies to the Finnish city of Tampere from Bremen, Dublin, Frankfurt, Liverpool, London and Riga. It takes approximately 45 minutes to travel from Tampere airport to the city by bus. The city itself is located approximately 480 kilometres from Oulu. Connecting from Tampere to Oulu is best done by train.
Another budget airline that flies to Finland is AirBerlin which has flights between Helsinki and several European cities.
Although flying through Helsinki to Oulu is by far the fastest way to get here, you might consider flying to Helsinki and taking the train to Oulu, especially if you find it difficult to get a reasonably priced flight from Helsinki to Oulu.
By train
The railway station in Oulu is located in the city centre, and there are many connections to a number of Finnish cities. Travelling to Oulu from Helsinki takes just under six hours on the Pendolino trains and approximately seven hours on the InterCity. Tickets cost approximately € 145 (return). The trip from Tampere takes from four hours 15 minutes to just over five hours, depending on the train. Tickets cost approximately € 125 (return). For more information, see the VR (National railways) website.
By car
Oulu is well connected within the Finnish road network and can be easily reached by car. Most of the major car rental agencies are represented in Finland.
Currency
Finland is a member of the European monetary union and thus the currency is Euros.
Weather
Finland is in the boreal zone. At the end of June, the weather is likely to be warm (approximately 20 degrees Celsius), but not hot. Oulu is very close to the Arctic Circle, and thus it will be light throughout the night during the conference. Many foreigners find it a little difficult to adjust to this light and we recommend that you take an eye mask (such as issued on airplanes to help passengers sleep) with you.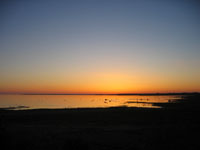 Midnight in June
For current information about the weather in Oulu, see the Finnish Meteorological Institute website.
Useful links:
www.journey.fi - a journey planner utilizing Finnish coach and train timetables
www.visitfinland.com - A web site full of information about Finland in English, French, German, Spanish and Russian.
http://www.oulutourism.fi/en/ - Information about Oulu in several languages. Facts and figures, activities, tourist information and photos of Oulu.
Visa Requirements
Most delegates will not require a visa to enter Finland (e.g. North America, Australia, Japan). If you are uncertain whether you require one, see the Ministry of Foreign Affairs website for detailed information.