Banquet
The conference banquet will be held on the evening of Saturday, June 28th at Holiday Club Oulu Eden. The restaurant has a beautiful view overlooking the sea. The banquet costs € 75 and includes a three-course meal. The award for best poster/demo will be given out at the banquet. Entertainment will be provided by Doctor Ammondt who performs Elvis in Latin.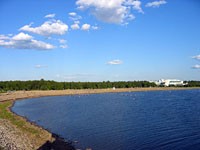 Nallikari beach with Eden in the background
Excursions
Two excursions are planned; a full-day trip to Kiutaköngäs rapids in the Oulanka National Park in Kuusamo and a half-day trip to the island of Hailuoto near Oulu.
The price for this excursion is € 80.
Children (under 12 years) € 60
Oulanka National Park is located in north-eastern Finland in an upland region. It ends at the national border, where the Russian Paanajärvi National Park begins. Oulanka is a unique and versatile combination of northern, southern and eastern nature. It is characterized by pine forests, river valleys with sandy banks and rapids, and vast mires. The area is rich in animal and plant species, including endangered ones.
The journey begins at 10 am as our coach departs. After a three-hour coach ride we stop for lunch at Oivangin Lomakartano and visit a reindeer farm nearby. From there it takes roughly an hour to get to the Oulanka Visitor Centre, which presents the park, its nature and wildlife. From the Visitor Centre we walk to the Kiutaköngäs rapids, approximately one kilometre away, over varying terrain. The rapids flow for about 200 metres between walls of red dolomite rock. Please, bring a pair of sensible shoes with you!
After a coffee break at the Visitor Centre we continue our journey up north to the small town of Kemijärvi, which lies north of the Arctic Circle, and where we stop for dinner. We drive back to Oulu via Rovaniemi which means that we are near the Arctic Circle at midnight, giving us the opportunity to catch a glimpse of the midnight sun. We return to Oulu around 2-3 am.
More information: http://www.luontoon.fi/page.asp?Section=6721
The price for this excursion is € 35.
Children (under 12 years) € 30
Hailuoto, the largest island in the Northern Gulf of Bothnia, is known for its rugged natural beauty. The island is located just off the coast of Oulu. Hailuoto offers many interesting sights, including Marjaniemi fishing village and lighthouse, which is our destination as well.
Our coach leaves for Hailuoto at 10 am. After a short drive, a ferry takes our coach from the mainland to Hailuoto island.
At the Hailuoto harbour we take on a guide and drive through the island to Marjaniemi where we get to know the unique characteristics of the island. Lunch is served at Restaurant Luotsi which has an exceptional view over the Gulf of Bothnia. We return to Oulu around 4pm.
It is possible to stop at Oulu airport on the way back if you have a flight leaving Oulu on Sunday evening.
More information: http://www.hailuototourism.fi/sivu/en/matkailu/hailuoto/
Sights and Activities
Science Centre Tietomaa
Tietomaa, Finland's first science centre, is one of Oulu's most popular tourist attractions. For more information, see http://www.tietomaa.fi/eng/tiedekeskus/index.html.
Eden Spa
Eden Spa, located at Nallikari beach, is an excellent place for the family to spend a day, relaxing in the saunas and pools.
For more information, see http://www.holidayclub.fi/portal/english/spa_hotels/holiday_club_oulu
For other sights and attractions in Oulu, see the city tourist information at http://www.ouka.fi/english/attractions.html or http://www.oulutourism.fi/eng/